Albert J. Pirro, Jr.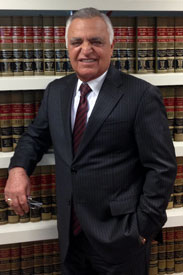 White Plains, NY attorney, Albert J. Pirro, Jr., M.A., J.D., is owner and principal consultant for The Pirro Group, LLC. With over 35 years of experience in representing business organizations in a broad range of matters, Mr. Pirro has the knowledge, ability and resources to guide you to success, to help you avoid litigation whenever possible, and to provide legal representation when litigation is unavoidable. His law practice focuses on: Environmental Litigation; Commercial Litigation; Construction Litigation; Real Estate Development Litigation; Labor Relations; and Appeals.
Mr. Pirro also provides consulting services in residential, office, retail and commercial development and financing of on-site and off-site improvements. His experience encompasses all aspects of real estate development, including acquisition, organization and development, zoning and land use planning, zoning approvals, construction and permanent financing, leasing, project development agreements and project labor agreements. He has successfully implemented Brownfield applications, eligibility and agreements. From 1994 through 2004, Mr. Pirro served as Managing Member of Pirro-Buley & Associates, LLC, a registered lobbyist in the State of New York.
Municipal Experience
Mr. Pirro gained knowledge and experience in land use, environmental, zoning and real property development issues while holding the position of Town Attorney for the Town/Village of Harrison, New York. In this position, he represented and advised the Town/Village Board, the Planning Board and the Zoning Board.
The cumulative experience that he gained in the representation of municipal agencies, including attendant litigation and negotiations, has given him the ability to formulate complex land use and development strategies. He is experienced in gaining all required approvals and coordinating all necessary applications and financing through the use of Industrial Development Agencies.
Land Use and Zoning Representation
Mr. Pirro has represented numerous office, retail, and commercial developments throughout Westchester, Rockland, Orange and Putnam Counties. He has also represented clients in significant retail leasing transactions across the country. Various office, retail and commercial projects that Mr. Pirro and his firm have represented or presently represent clients throughout the process of obtaining required approvals for construction and development:
Mr. Pirro also has experience in providing legal representation for clients in the acquisition and development of residential properties. Various of these developments have required the preparation and filing of either a homeowner's association or a condominium offering plan.
Industrial Development Agencies
Mr. Pirro has counseled numerous clients who have sought to relocate and/or expand their businesses in Westchester County. He is among the founding members of the County's lead economic development agency, the Westchester Business Partnership. The Partnership is a coalition group of Westchester County government officials and local business and real estate leaders which seeks to provide assistance to retain businesses in the County and to attract others from outside Westchester to relocate here.
Education
Mr. Pirro received his J.D. from Albany Law School in 1974, his M.A. in Criminal Justice from SUNY Albany in 1971 and his B.A. in Psychology from St. Bonaventure University in 1969.
Organization Memberships
Legal Counsel – United Federation of Special Police & Security Officers, Inc.
Legal Counsel – New York State of Federation of Police, Inc.
Legal Counsel – United Federation of Police Officers, Inc.
Legal Counsel, Police Retirees of White Plains Association (2010-present)
Member, New York State Bar Association
Admitted United States District Court, Southern District
Admitted United States Court of Appeals for the Second Circuit
American Heart Association, Gala Dinner Chairman (2004)
New York State Economic Development Council, Member (1997-present)
American Red Cross, Chairman of Centennial Campaign (1997 & 1998)
Westchester Holocaust Commission, Co-Chair of Annual Gala (1996 & 1997)
Hudson Valley Bank Board of Directors (1996-1998)
Mercy College, Board of Trustees (1995-1997)
Westchester Art Council, Board of Directors (1995-1998)
March of Dimes Westchester Division, Board of Directors (1995 to present)
March of Dimes Walk America, Co-Chairman (1995 & 1996)
Columbian Lawyers Association of Westchester County, Past President
Westchester County Business Partnership, Board of Trustees
St. Agnes Hospital, Board of Trustees
Westchester Partnership for Economic Development Board of Directors
Westchester Holocaust Commission, Board of Directors
Friedman Rehabilitation Institute for Children, Board of Directors
Westchester Hemophilia Organization, Board of Directors
Red Cross, Touch of Red Ball Committee (1989)
Cooley's Anemia Golf Committee (1990)
Dr. I Fund Golf Committee (1990)
Westchester Hemophilia Golf Committee (1990)
Westchester Chapter National Conference of Christians and Jews (1989)
United States Supreme Court-New York State Bar Association
American Bar Association
New York State Trial Lawyers Association
Westchester County Bar Association
Association of Trial Lawyers of America
Resident Membership Wykagyl Country Club, New Rochelle, NY (1981-1985)
Non-Resident Membership, Old Marsh Country Club Palm Beach Gardens, FL (1986-1990)
Resident Membership Westchester Country Club (1985-present)
Resident Membership Mayacoo Country Club, Palm Beach (1996-present)
Mar-A-Lago Club, Palm Beach (1996-2000)
Distinctions
New York State Bar Association Pro Bono Award, Nominee (2011)
Man of the year by the Retired Police Officers of the City of White Plains Association (December 11, 2011)
Pro Bono Counsel for Retired Police Officers of the City of White Plains
American Red Cross 16th Annual Heroes Cup Tournament, Honoree (2004)
Ernest Davis Scholarship Fund Award Dinner, Honoree (2003)
American Committee on Italian Migration Community Service Award (1997)
March of Dimes Real Estate & Business Award (1997)
Albert J. Pirro, Jr. Scholarship Fund for Pace University School of Law, Founder (1997)
Pace University School of Law, Second Annual Leadership Awards Dinner (1996)
New York State Small Business Advisory Board Honoree (1995)
My Sisters' Place (Domestic Violence Shelter) Award for Exceptional Effort and Support (1995)
Boy's Town of Italy Man of the Year (1995)
Boys' Town of Italy Certificate of High Merit (May 1994)
March of Dimes Man of the Year (1993)
My Sisters' Place (Domestic Violence Shelter) Award of Distinction (1993)
Cooley's Anemia Man of the Year (1991)
Dr. I Fund Man of the Year (1989)
Hemophilia Foundation (Westchester Chapter) Honoree (1985)
President, Albany Law School (Class of 1974)
Who's Who American Colleges and Universities (1973-1974)
1st Place American Bar Association Client Counseling Competition, North East Region (1972-1973)
1st Place Albany Law School Trial Competition (1974)
Finalist American Bar Association Client Counseling Competition, National Competition (1972-1973)
Graduate Student Representative, Student Council S.U.N.Y. Albany (1970-1971)
Graduated Cum Laude St. Bonaventure University
National Honor Society Psychology/Psi Chi
National Honor Society
Publications
ARTICLE: SEQRA: How to Avoid an Adverse Statute of Limitations Determination, New York Law Journal, June 20, 2019
ARTICLE: Improving Spot Zoning Challenges, New York Law Journal, August 29, 2017
ARTICLE: When is a SERA Determination Ripe for Judicial Review?  New York Law Journal, June 26, 2017
ARTICLE: Considering the issues when it comes Selling Property; Real Estate Weekly, August 15, 2007
ARTICLE: The Unconstitutionality of Consolidated Planning Boards: Interlocal Planning Under New York Law; Pace Law Review, Vol. 16, No. 3, Summer 1996
ARTICLE: Financing Development Projects with the Westchester County IDA, Westchester County Business Journal, April 24, 1995
ARTICLE: Public and Private Benefits of Privatization, Area Development, February 1995
ARTICLE: The Open Development Area as a Planning and Zoning Device, The Westchester County Bar Journal, Spring 1988
COMMENT: Adjournment in Contemplation of Dismissal; CPL Section 170.56, Albany Law Review, Winter 1974
LEAD ARTICLE: Acupuncture: The Practice of Medicine? Albany Law Review, Vol. 38, No. 4, Spring 1974
ARTICLE: Addressing Municipal Estoppel Upon Invalidly Issued Building Permit; New York Law Journal, November 2, 2016